03.09.2019
Toshiba adds 16TB capacity to N300 and X300 Hard Drive Series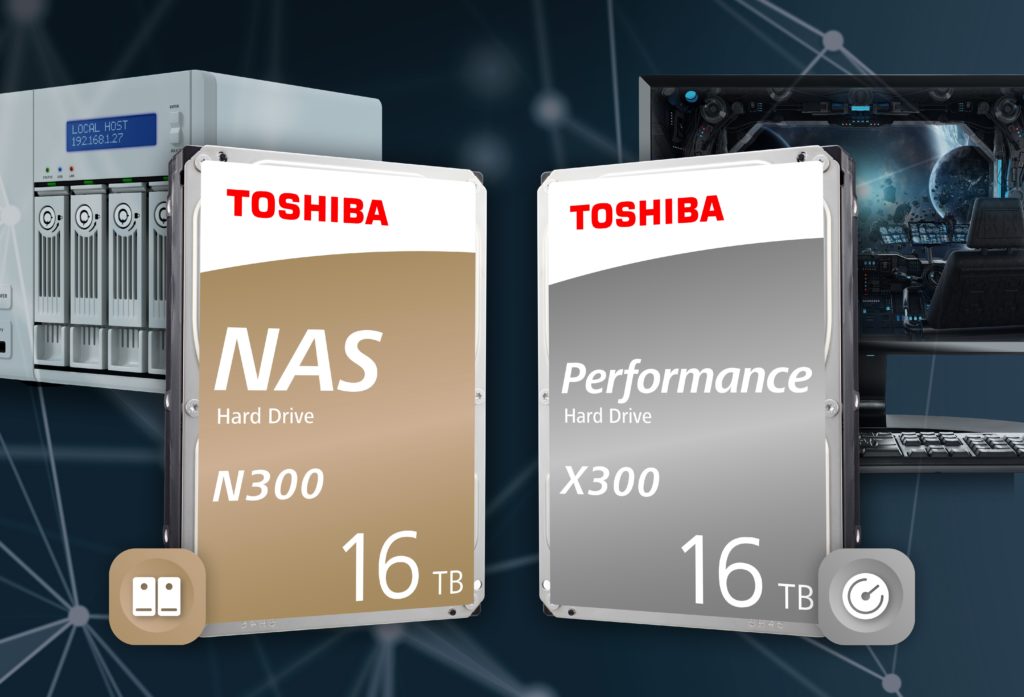 The N300 NAS and X300 Performance Hard Drive Series deliver expansive storage for performance, gaming, and small business NAS applications.
Düsseldorf, Germany 03. September 2019 – Toshiba Electronics Europe GmbH announces the addition of new 16TB helium-sealed models to both the N300 NAS Hard Drive and X300 Performance Hard Drive Series. The 16TB[1] models offer 14% more capacity than 14TB models. The 16TB models also double the buffer size of the 14TB models, increasing from 256MiB to 512MiB.
The 16TB N300 and X300 Series utilize a 9-disk helium-sealed design, delivering increased storage density with a lower hard drive operating power profile. Toshiba Group's laser welding technology and case design keep the helium securely sealed inside the industry-standard 3.5-inch[2] drive enclosure.
"Thanks to our advanced helium-sealed design, Toshiba's 16TB N300 and X300 Series deliver improved power efficiency at new levels of storage capacity and density," says Larry Martinez-Palomo, General Manager of the HDD Business Unit at Toshiba Electronics Europe GmbH. "Toshiba's commitment to advancing HDD design up to 16TB meets the evolving storage needs for performance, gaming, and office NAS applications. It will enable both gamers and NAS users to efficiently store and access even larger amounts of data."
The N300 Series is ideal for applications like home office and small business NAS and private cloud storage, with up to 8 drive bays supported[3]. Designed for 24/7 operation, the N300 Series has a workload[4] rating of up to 180TB/year, 7200rpm performance and integrated sensors to compensate the effect of rotational vibrations.
Designed for PC and high-end desktop workstations, the X300 Series delivers 7200rpm performance, drive stabilization technologies for improved reliability and Toshiba Group's cache technology to optimize cache allocation during read/write to provide high-level performance in real time.
The N300 Series includes a 3-year limited warranty, and X300 Series includes a 2-year limited warranty. The 16TB N300 and X300 models are expected to be available in Q4 2019.
Toshiba Electronics Europe GmbH will exhibit its Storage Solutions at the IFA 2019, Berlin trade show from Sep 6th – Sep 11th in hall 17, booth 105. For more information on Toshiba's full line of HDD storage products, please visit: https://www.toshiba-storage.com.
Notes:
[1] Definition of capacity: Toshiba defines a megabyte (MB) as 1 000 000 bytes, a gigabyte (GB) as 1 000 000 000 bytes and a terabyte (TB) as 1 000 000 000 000 bytes. A computer operating system, however, reports storage capacity using powers of two for the definition of 1GB = 230 = 1 073 741 824 bytes and therefore shows less storage capacity. Available storage capacity (including examples of various media files) will vary based on file size, formatting, settings, software and operating system, such as Microsoft Operating System and/or pre-installed software applications, or media content. Actual formatted capacity may vary.
[2] "3.5-inch" means the form factor of Hard Drives. They do not indicate drive's physical size.
[3] As for "Drive Bays Supported", please contact your solutions provider because the compatibility with the host device will vary based on the RAID system.
[4] Workload is a measure of the data written, read or verified by commands from the host system over a calendar year.
* Information in this document, including product prices and specifications, content of services and contact information, is current and believed to be accurate as of the date of the announcement, but is subject to change without prior notice.
* Company names, product names, and service names mentioned herein may be trademarks of their respective companies.