12.12.2019
With Toshiba hard disk drives, you'll have an unforgettable Christmas!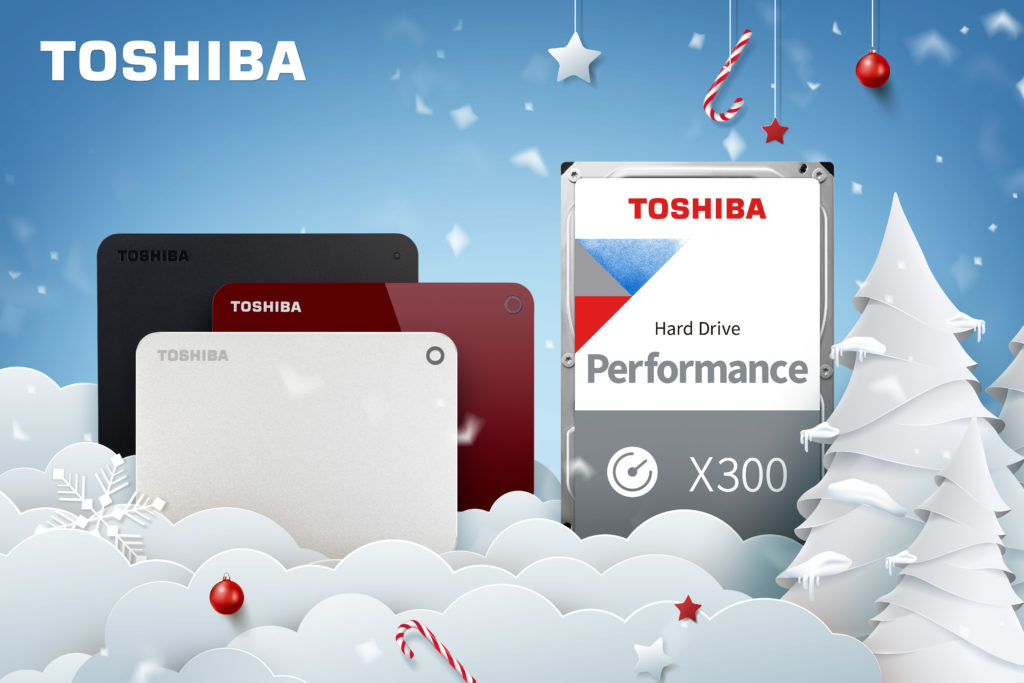 Christmas is fast approaching, so the hunt for the perfect present has begun. Toshiba offers a range of storage solutions for you to put under the tree as the perfect gift for friends and family. A hard drive is a hi-tech gadget that guarantees memories will be protected and secure for a long time, and means there are no more excuses for not backing files up. For you, this means no more desperate calls from Granny, your girlfriend or boyfriend, or your uncle saying they've lost the photos of last year's Christmas dinner or their most recent holiday! Toshiba has solutions for everyone, from premium users to those who just want to plug it in, and for every task.
Canvio Premium
For users who always want to be at the TOP
At the top of the Canvio range, this hard drive offers a better class of storage for design fans. It comes in two colours: silver and dark grey metallic and stands out for its 2.5 inch aluminium casing, with diamond-cut edges and a refined accessory: a protective pouch in soft velvet. This hard drive also comes with USB A and C adapters so you can download Toshiba Storage Security software for free to password-protect and securely store photos, videos and other important files, and Toshiba Storage Backup to automatically back up data at regular, user-defined intervals.
Also available for Mac: Canvio Premium for Mac.
Canvio Advance
The must-have hi-tech gadget for fans of colour
Canvio Advance is the perfect storage solution for people who need more storage capacity (up to 4 TB) in a striking case. With its glossy red finish, this hard drive truly is the must-have hi-tech gadget for every Christmas. Thanks to Toshiba Storage Security and Toshiba Storage Backup software, which can be downloaded for free, you'll be able to schedule automatic backups at user-defined intervals and password-protect all your files. And there's more: The high data transfer speed offered by USB 3.0 technology.
Canvio Basics
For fans of classic simplicity
SuperSpeed USB 3.0 port, up to 4 TB of storage and plug-and-play operation. Canvio Basics is the perfect solution for people who want an easy-to-use storage device: storing all your favourite files has never been so quick and easy! Its opaque black finish gives this device a classic, timeless look, and its subtle, compact form factor makes it the "ideal companion" for every trip, but also the perfect hi-tech gadget for your desk.
Its combination of high performance and a good price/quality ratio were recently recognised when Canvio Basics 4 TB won the CHIP award.
X300 Performance Hard Drive
Maximum space, maximum fun for people who are never satisfied: this is the perfect hard drive for gamers (and others too)!
The X300 internal 3.5" hard drive from Toshiba is a great gift idea for PC gamers, graphic designers and users with demanding storage requirements. With protection for professional and gamer PCs, the device is able to manage workloads of any size and offers up to 16 TB of space and great reliability, thanks to a range of advanced features, such as a 512 MB, 256 MB or 128 MB buffer and a disk speed of 7200 rpm, which means data can be stored securely and accessed quickly. The best thing about this solution is definitely its ability to multitask: whether it's a quick game save, a large file that needs backing up or working with multiple applications, the X300 retains its high performance all day, every day.