03.12.2019
Toshiba adds 4TB and 6TB capacity drives to P300 Desktop PC Hard Drive Series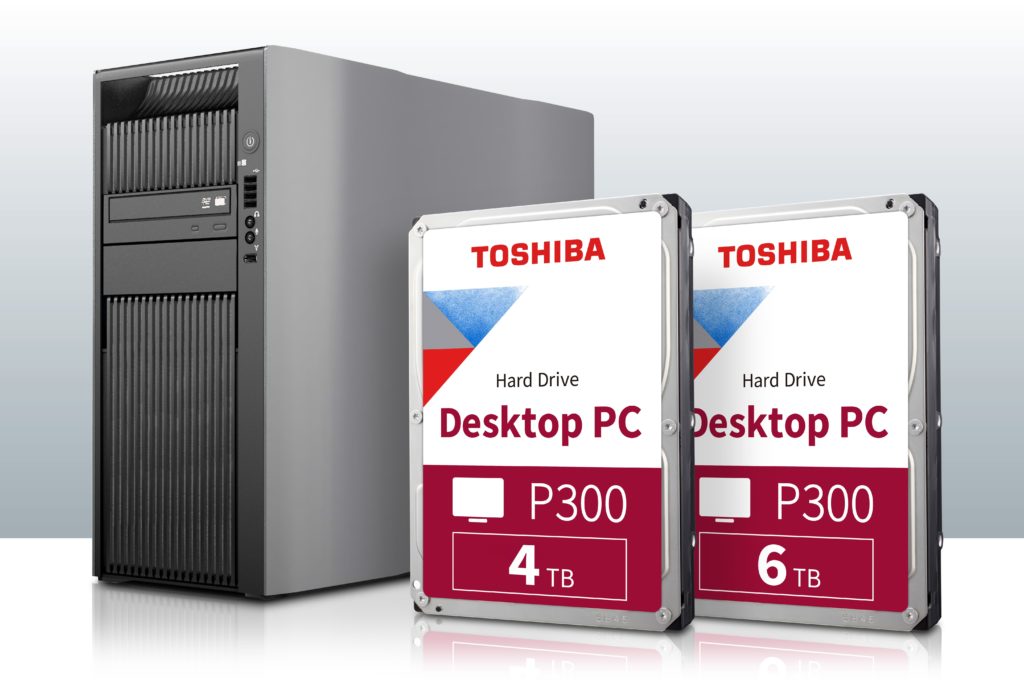 The 3.5-inch P300 Internal Hard Drives deliver expansive storage for professionals
Düsseldorf, Germany, 3rd December 2019 – Toshiba Electronics Europe GmbH announces the addition of new 4TB[1] and 6TB models to its 3.5-inch[2] P300 Desktop PC Hard Drive Series. These new models double the buffer size, increasing it from 64MB to 128MB, and are additionally quieter and require less power compared to other models in the series.
Thanks to the Dual-Stage Actuator, the drives' read/write heads are optimally protected when transported alone or integrated into a PC. The drives also feature an internal shock sensor that protects data during operation, making them ideal for graphic designers and creative professionals working on the move.
Further improvements in this series, such as innovative techniques to minimize head movement, enhance read/write access sequencing. This optimization minimizes the mechanical workload, improving overall performance and fulfilling the needs of desktop workstations and gamers alike.
"These latest additions to the P300 series deliver more capacity at a lower power consumption, while delivering gamers, graphic designers and users of desktop workstations extended storage capacity," says Larry Martinez-Palomo, General Manager of the HDD Business Unit at Toshiba Electronics Europe GmbH. "The 4TB and 6TB P300 show Toshiba's commitment to fulfilling the growing HDD capacity needs of the market while maintaining performance, quality and reliability."
The 4TB P300 model is available now, and the 6TB P300 model is expected to be available in the first quarter of 2020.
For more information on the products, please visit: https://www.toshiba-storage.com/products/toshiba-internal-hard-drives-p300/
Notes:
[1] Definition of capacity: Toshiba defines a megabyte (MB) as 1,000,000 bytes, a gigabyte (GB) as 1,000,000,000 bytes and a terabyte (TB) as 1,000,000,000,000 bytes. A computer operating system, however, reports storage capacity using powers of 2 for the definition of 1GB = 230 = 1,073,741,824 bytes and therefore shows less storage capacity. Available storage capacity (including examples of various media files) will vary based on file size, formatting, settings, software and operating system, such as Microsoft Operating System and/or pre-installed software applications, or media content. Actual formatted capacity may vary.
[2] "3.5-inch" means the form factor of Hard Drives. They do not indicate drive's physical size.
* Information in this document, including product prices and specifications, content of services and contact information, is current and believed to be accurate as of the date of the announcement, but is subject to change without prior notice.
* Company names, product names, and service names mentioned herein may be trademarks of their respective companies.