15.08.2017
NAS and surveillance drives: How they're different and why they're a big deal
How do NAS and surveillance HDDs differ from regular desktop drives?
Network-attached storage (NAS) and surveillance hard disk drives (HDDs) are designed and tested to deliver reliable, long-term 24×7 operation. The drives found in most desktop and laptop computers aren't built with this type of usage in mind.
Moreover, NAS HDDs, such as the Toshiba N300 and surveillance HDDs, typically incorporate rotational vibration (RV) sensors. These enable multiple drives to be safely mounted close together in the same enclosure, and still operate reliably. Without the sensors, there's a risk of rotational vibration affecting other drives in a multi-bay system.
Where do NAS and surveillance drives sit in relation to the high-end HDDs found in servers?
Like NAS and surveillance HDDs, server-grade hard drives are designed for 24×7 operation and for systems where multiple disks operate in close proximity. The key difference is around data workloads: server HDDs are built for the high-volume work associated with large numbers of users and intensively used production databases. NAS and surveillance HDDs are engineered for the less-demanding workloads typical of surveillance or central network data storage.
Consequently, NAS and surveillance HDDs sit between server-grade and desktop-type drives, both in terms of workload capability and price.
With more and more data being stored in the cloud, what is driving the continued demand for local storage, particularly NAS?
We've all heard about the global data explosion, and while the cloud offers part of the storage solution, there are situations where data needs to be housed locally. There is also an increasing appreciation of the importance of robust, reliable backups. Combined with the world's ever-growing data volumes, this need to keep copies of data is multiplying storage capacity requirements across the board, from home users with NAS- and surveillance systems to large enterprises.
NAS systems have evolved and now incorporate many of the features you would previously only see in more-expensive Enterprise storage server systems with Fibre Channel connections. This means that as storage demands grow, particularly in businesses, NAS systems with Toshiba's N300 NAS HDD can be used for ever-larger parts of it.
With SSDs getting cheaper all the time, is there still a place for spinning-disk storage?
The cost of solid state drives (SSDs) has come down considerably, and indeed some high-end NAS systems use them for caching. SSDs are all about performance, but spinning-disk HDDs still have the upper hand when it comes to providing large amounts of capacity in an economical way. And with lots of Research and Development, particularly to increase the data density and number of platter is going on around HDDs, we should see the cost per GB continue to fall and significant increases in capacity. As a result, they'll remain an essential part of the storage ecosystem for at least the next 10 years.
Why is it that HDDs can scale more economically than SSDs?
In essence, an SSD is made up of storage cells, each with its own read/write transistor and wiring. Despite of smaller geometries and 3D cell stacking, to double the capacity, you double the number of storage cells, which in turn doubles the number of transistors and wires required – and scales up the cost. With a spinning-disk HDD, there are ways to increase the recording density and add less expensive platters without increasing the drive's physical size or significantly adding to its cost.
What capacities can we expect to see from NAS-grade disk drives in the short- and medium-term?
We've recently seen improvements to the way data is recorded and to the number of platters you can fit into the standard 3.5-inch form factor. Both these enhancements mean you can now get NAS-grade drives with capacities above 8 TB.
The next steps could be to bring the helium-filled disks – which you can already find in some server-grade applications – to NAS systems. This enables the platters to be thinner, meaning you can fit more of them into the same size of enclosure. This development should see NAS drive capacities boosted to around 14 TB.
There's also work going on in the HDD industry to develop new recording technologies, which should see NAS HDD capacities edge towards and eventually break through the 40 TB capacity barrier.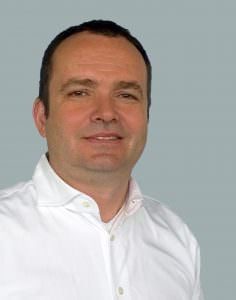 Author:
Rainer W. Kaese – Senior Manager Business Development Storage Products, Toshiba Electronics Europe
Rainer Kaese has been with Toshiba for over 20 years. He initially specialized in application specific ICs, managing the ASIC Design Center, and later the Business Development Team for ASIC- and Foundry Products. He is currently responsible for the introduction of Toshiba's Enterprise HDD and SSD products into Datacenters, Cloud Computing and Enterprise applications.