01.09.2015
Toshiba introduces new line of internal Hard Drives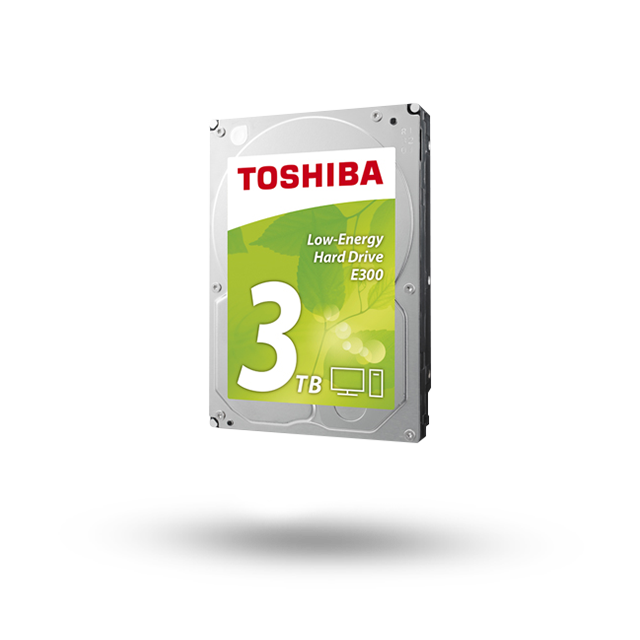 Five new and reliable SATA hard drives for desktop PCs, laptops and consoles
01 September 2015 – Toshiba launches an impressive new range of five SATA hard drive (HDD) models, tailored to support a diversified array of applications. There are three 3,5-inch hard drives: the quiet E300 Low-Energy Desktop Hard Drive, intended for generic users, the P300 High-Performance Desktop Hard Drive to give your PC a powerful boost and the X300 High-Performance Desktop Hard Drive for power application users such as graphic designers and PC gamers. And two 2,5-inch hard drives for laptop users: the L200 Mobile Hard Drive, and the H200 High-Performance Hybrid Drive, a solid state hybrid drive that also suits console and PC gamers' needs.
The X300 with extreme performance for professionals is especially geared for the real 'techies', high-end or professional users such as graphic designers and gamers as all other users with high-end demands on performance and reliability. It offers high storage density and capacity, with enhanced real-time performance and data protection technology. The drive operates with 128 MB data buffers, 7,200 rpm speed and a dual-stage actuator to realize reliable performance and speed. The hard disk drive comes in 4, 5 and 6 TB[1].
The P300 is a high-performance model great for running demanding applications. The drive operates with 64 MB data buffers, 7,200 rpm speed and SATA 6 Gbit/s interface. The disk is Native Command Queuing (NCQ) compatible, features special data protection technology, and is available in four sizes: 500 GB, 1 TB, 2 TB and 3 TB.
The E300 eco-conscious desktop hard drive with its low noise level design and silent operation  technology is more energy efficient (with up to 25% less consumption compared to 7,200 rpm hard drives), which increases its reliability, and guarantees extended use and high performance. The disk is available in  2 and 3 TB.
In the 2,5-inch range the H200 ultra performance and productivity solid state hybrid drive is the high-speed 2,5-inch disk in 500 GB and 1 TB to upgrade your PC or game console for both generic users and gamers. It combines SSD-like performance with HDD-like capacity by fusing Toshiba NAND-technology with the proven merits of a hard disk drive, for a superb balance between performance and capacity at a stellar operational level.
The L200 offers reliable performance for everyday users and gamers in 500 GB or 1 TB, featuring high capacity storage, compatibility with NCQ and ramp loading data protection technology, especially for mobile computing environments.
The new product family focuses on high performance and reliability, with features such as Toshiba's Dual-Stage Actuator (DSA) for positional accuracy in reading and writing to disk, RV sensors that compensate possible rotational vibrations, silent operation technology and Native Command Queuing (NCQ) for efficient command processing. User data is better integrated with Advanced Format (AF), is stored in a higher density thanks to Perpendicular Magnetic Recording (PMR) Technology and the Tunnel Magneto-Resistive (TMR) Recording Technology offers improved stability. Ramp Load Technology ensures better disk protection when a drive is being transported, and the shock sensor helps to prevent data loss.
---
[1] One Gigabyte (1GB) means 10 = 1,000,000,000 bytes and One Terabyte (1TB) means 10 = 1,000,000,000,000 bytes using powers of 10. A computer operating system, however, reports storage capacity 30 40 using powers of 2 for the definition of 1GB= 2 = 1,073,741,824 bytes and 1TB = 2 = 1,099,511,627,776 bytes, and therefore shows less storage capacity. Available storage capacity (including examples of various media files) will vary based on file size, formatting, settings, software and operating system and other factors.