06.12.2018
Toshiba adds new 12TB and 14TB helium-sealed models to both the N300 NAS and X300 Performance Hard Drive product line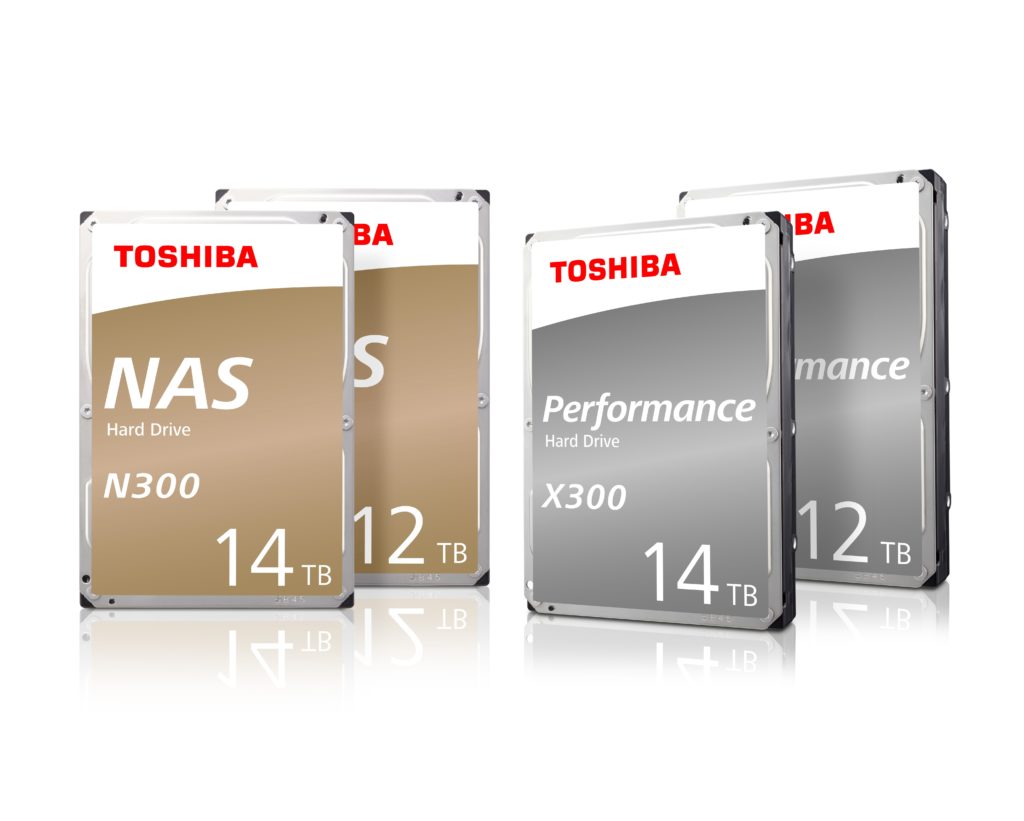 The new 14TB models deliver up to 40% more capacity and lower power demands over current 10TB models.
Düsseldorf, Germany – 6 December 2018 – Today Toshiba Electronics Europe GmbH (TEE) is adding 12TB and 14TB models to both its N300 NAS Hard Drive and X300 Performance Hard Drive series.
The new 12TB and 14TB models use a helium-sealed design, enabling the 3.5-inch mechanical design to deliver increased storage density with a lower hard drive operating power profile. Toshiba laser welding technology and hard drive case design keeps the helium securely sealed inside the drive enclosure.
Additionally, the new 12TB and 14TB models operate at 7,200rpm and come with an ultra-high 256MB data buffer. The N300 NAS and X300 models use Toshiba's advanced Stable Platter Technology to minimize vibrations by stabilizing the motor shaft at both ends for improved tracking accuracy and maximum performance during read and write operations. 
The N300 NAS models include rotational vibration (RV) sensors and deliver sustained data transfer speeds up to 260MB/s for 14TB or up to 253MB/s for 12TB. With support for up to 8[2] HDD multi-RAID systems, the new N300 models are highly scalable to the users' NAS configurations as their data storage needs evolve large amounts of data need to be efficiently stored and accessed daily.
"It is the use of advanced technologies that deliver exceptional reliability and power efficiency, along with the increasing performance and storage capacity of these drives that will continue to keep Toshiba in the position of innovator within the storage space," said Larry Martinez-Palomo, General Manager, HDD Business Unit, TEE.
The N300 NAS Hard Drive series is designed for use in high-performance personal, home office and small business network attached storage applications such as for scalable RAID systems. It is optimized for the performance, reliability and endurance requirements of 24/7 operation high-capacity storage and comes with a 3-year guarantee.
The X300 Performance Hard Drive series delivers extreme performance and robust capacity for creative and professional applications including graphic design, animation, photo and video editing, and PC gaming. With up to 14TB, the new hard drives easily store and provide access to even the fastest-growing gaming libraries.
General availability of the new capacity models will start in December 2018. For further information and the detailed product specifications on our full line of consumer hard drive storage products, please visit www.toshiba-storage.com.
Notes:
[1] One Gigabyte (GB) means one billion bytes and one Terabyte (TB) means one trillion bytes. Total available capacity will vary based on operating environment and may show less storage capacity. Your results will vary. A computer operating system, however, reports storage capacity using powers of 2 for the definition of 1TB = 240 = 1,099,511,627,776 bytes and therefore shows less storage capacity.
[2] As for "Drive Bays Supported", please contact your solutions provider because the compatibility with the host device will vary based on the RAID system.
– Information in this document, including product prices and specifications, content of services and contact information, is current and believed to be accurate on the date of the announcement but is subject to change without prior notice.
– Images displayed in the banners are for illustration purposes only and do not show the actual products. The images are merely intended to help illustrate the function of the products.
– Company names, product names, and service names may be trademarks of their respective companies.